Viewing 6 posts - 1 through 6 (of 6 total)
Author

Posts

May 29, 2020 at 1:59 pm

#484

justmeandmyplants

Greenhorn

After a few weeks of looking for compost around neighboring cities, we found a farm selling animal manure 37kms away thanks to internet! Got at least 200kgs spread out in the entire garden. Happy as well as the plants but tired now  😎 Hands to wash and off to the fridge for snacks!  😉

June 1, 2020 at 3:37 pm

#489

Bea

Greenhorn

😯 Doesn't it smell? I always use compost from leaves and other plants for this reason.

June 2, 2020 at 5:03 pm

#500

justmeandmyplants

Greenhorn

No, not all. It's already dry so it just smells like compost from plants. Technically the manure we bought is from cows' poo so it's also from plants. 😉 Worth a try if you have animals. We live in the city with a small garden so we can't even have chickens.

June 2, 2020 at 5:37 pm

#501

Fatzo

Expert gardener

That cow manure is really the tops. We put it in our tomato bed and even in scorching heat it was still moist and cool about half a foot deep. We got great tomatoes that year but overdid the watering and they split 🙁

June 2, 2020 at 8:42 pm

#504

Freeda

Greenhorn

We've experienced putting manure, just be careful to spread thin layer like 2-3 inches. This keeps fermentation from taking place so as not to burn the plants. Some plants are also sensitive to too much fertilizer especially the small ones and newly sprouts. Just a kind advice from someone who had burnt plants on the first attempt of using animal manure.

June 3, 2020 at 4:25 pm

#506

Bea

Greenhorn

It's good to know that it doesn't smell as long as it's dry. We don't have animals either. It can be something to try in the future if there's available but for the meantime we'll stay with plant compost. We still have second batch almost ready.

Author

Posts
Viewing 6 posts - 1 through 6 (of 6 total)
Also related to this topic
What is compost exactly? Uses and purpose
What is compost? Fashion blip or true eco-friendly solution for your plants and garden? Compost is without a doubt the answer to the trending quest for organic produce and for environment-conscious solutions in general. It also stands as a tried…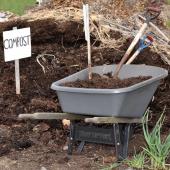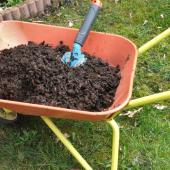 Soil mix or compost, what is the difference?
Even though these two products are often confused, they do have very distinct uses and very different results. Soil mix designates a growing substrate that is ready for planting. Soil mix is a blend of various mineral and organic matter,…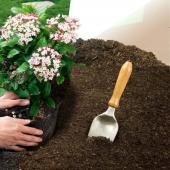 Account
Online
4 Users online
Including and 4 Guests
Search the forum
Can you answer these?
Recent Topics