Viewing 5 posts - 1 through 5 (of 5 total)
Author

Posts

1 April 2020 at 14 h 47 min

#309

Howie's garden

Greenhorn

We have several laurel trees and so we wanted to clear our garden a bit. Last fall, we cut two laurel trees to the lowest level in the ground and since then there have been several healthy sprouts around what's left of the trunks. Pulling them out from time to time isn't making it die once and for all. They just keep producing new sprouts. What could we do? Any way we could finally kill the trunks?

5 April 2020 at 23 h 11 min

#328

Vanji

Greenhorn

Pour half cup of vinegar on each trunk, repeat it twice a week until you see that there are no new sprouts anymore. It took me 2 weeks or so but that depends on the type of tree. mine wasn't a laurel. bon courage

8 April 2020 at 22 h 08 min

#335

beekeeper

Greenhorn

I couldn't agree more with Vanji and if I may add, you can also remove the remaining bark down in the soil. It's the bark that keeps the trunks alive making new sprouts. Keep us posted if it works for you in the end. Godspeed!

12 April 2020 at 13 h 36 min

#338

paddygray

Greenhorn

I have a row of new  (last summer) planted laurel to make a hedge, approx 10 trees. Half are looking good with deep green leaves. The other half the leaves seem to be a light green in colour & most have developed some yellow leaves. Any help would be much appreciated. Thanks

13 April 2020 at 17 h 55 min

#340

beekeeper

Greenhorn

Would it be possible to get some pictures which include the soil? There could be several reasons why leaves turn yellow. Could be poor drainage and this is quite common. I'm not that expert on this topic but I've had the same experience with another type of tree.

Author

Posts
Viewing 5 posts - 1 through 5 (of 5 total)
Also related to this topic
Portugal laurel, a nice hedge shrub
Portugal laurel is a beautiful evergreen shrub with deep dark green leaves. Key Portugal laurel facts Name – Prunus lusitanica Family – Rosaceae Type – shrub, bay Height – 6½ to 20 feet (2 to 6 meters) Exposure – full sun Foliage – evergreen Flowering – spring Fruits – fall (inedible)…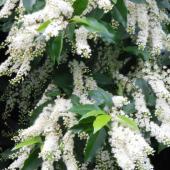 What to plant in the garden for natural self-healing?
Herbal tea prepared with leaves and flowers from the garden can be great remedies to regain control over your own health... naturally. What if we rediscovered the right practices to treat the small ailments that plague us day after day?…
Cherry laurel, a nice shrub for hedges
Cherry laurel is a shrub as attractive in summer as it is in winter. Key Cherry laurel facts Name – Prunus laurocerasus Family – Rosaceae Type – shrub, bay Height – 3 to 13 feet (1 to 4 m) Exposure – full sun to shade Soil – ordinary…
Account
Online
1 User online
Including and 1 Guest
Search the forum
Can you answer these?
Recent Topics