Viewing 10 posts - 1 through 10 (of 10 total)
Author

Posts

Author

Posts
Viewing 10 posts - 1 through 10 (of 10 total)
Also related to this topic
Bulb flowers, advice on how to plant them
Bulbs are planted in fall or in spring depending on when the blooming season is. . Spring-flowering bulbs are planted in fall, and summer-flowering bulbs are planted in spring. . A few recommendations for planting bulb flowers like tulips, hyacinths,…
Use dowsing to set your garden up!
Should you plant here, or rather there? What if you relied on dowsing to find the perfect spot and hope for a bountiful garden? Why rely on dowsing? Dowsing is the study of the relationship between an environment and its…
Bulb flowers that bloom in summer
They provide magnificent flowers over the summer and sometimes even into fall. Summer bulbs are often spectacular and are magnificently ornamental in flower beds and along garden edges, but also in garden boxes and pot arrangements on your terrace. …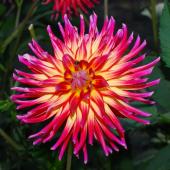 | | |
| --- | --- |
| | Log in or Join |
UserOnline
1 User online
Including
Can you answer these?
Recent Topics