Philippine government giving seeds away
Viewing 3 posts - 1 through 3 (of 3 total)
Author

Posts

Author

Posts
Viewing 3 posts - 1 through 3 (of 3 total)
Also related to this topic
Kitchen plants to grow from scratch – no need to go buy seeds!
Grow plants straight from the kitchen. No need to leave the house to garden! Stay-at-home gardening facts Sow seed – bell pepper, tomato, beans... Make cuttings – ZZ, begonia, dracaena... Sprout scraps – spring onions, celery... Make soil – coffee…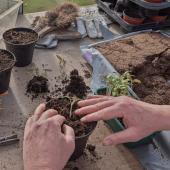 Growing squash and gourds easy tutorial – pumpkins, too!
Squash and pumpkins are excellent produce that keep for long in winter if grown properly. This Smart Tip Tutorial is key to learning how easy it is to plant squash successfully for your entire family and neighbors or selling at…