What is happening with my stonecrop?
Viewing 6 posts - 1 through 6 (of 6 total)
Author

Posts

June 17, 2020 at 2:46 pm

#544

Nikki888

Greenhorn

Hello All ❗

I am happy that I've found this nice forum 🙂
I need your kind help, with my stonecrop – it is growing weird.. I am kind of uncertain right now. So, I mean, it started to grow UP! in the middle. See the pics pls! I have it for years, but I've never seen anything like this :O Honestly, I don't know what type of stonecrop it is, so it would be helpful, if someone could tell me for sure this, too.

Thank you very very much your replies,
and even advice, like should I water it more, or not keep it on the direct sun..?
And in exchange for your kind help (nothing is free in this world 😀 😀 😀 ) let me share a > funny joke < with you, to make your day happier! I've just read it, I hope you will have a good laugh, too ;*

June 21, 2020 at 5:20 pm

#560

LOL

Greenhorn

Check sempervivum mahogany as I think this is the name of this succulent. Why is one of them growing strangely vertical? It's crowded in the pot so it might be that the best way to get more light is to be taller than the rest.  🙂

June 25, 2020 at 5:24 pm

#583

Nikki888

Greenhorn

Hi!

Thanks for the info, I will check.

they are crowded,but they have have plenty of space actually on the sides. and the one in the middle was the biggest.

June 25, 2020 at 6:58 pm

#585

blasiter

Greenhorn

Oi hi

usually growing tall = lack of light

but in this case I think growing tall = excellent health

if it were lack of light, you'd have much less leaves they would be spaced out and the thing would look scraggly

it's the one in the middle growing tallest because it sources food from all the neighboring ones, they share their roots somehow

that's what I think

cheerio and thanks for fun joke @nikki888  😛

June 26, 2020 at 1:46 pm

#587

Nikki888

Greenhorn

Hello @blasiter !

Thank you for the reply! I really hope that it is in excellent health, I guess you are right, because it does look healthy, and the others, too. Some of them has a dry,brownish bottom, but the leaves look healthy.
I dunno..

Somebody told me that it might flowering, have you heard about something like that in case of this plant?

I am happy that you liked the joke, I like cheering up reading jokes 😀 short, fun, no big mobile data usage  😉  😆

June 27, 2020 at 12:51 pm

#593

blasiter

Greenhorn

welcome

had second thoughts and read up on it – glad I did since it's healthy to the point of beginning to bloom

see here:

definitely hoping for updates if it starts blooming!

Author

Posts
Viewing 6 posts - 1 through 6 (of 6 total)
Also related to this topic
Stonecrop, Sedum spectabile
A cute succulent that grows on its own, Stonecrop will grant you wonderful blooms when the temperature rises And the bees love, it, too! Stonecrop key facts Name – Sedum spectabile Family – Crassulaceae Type – perennial, succulent Height –…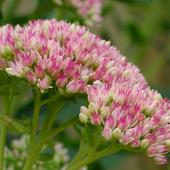 Account
Online
5 Users online
Including Hm Lp and 4 Guests
Search the forum
Can you answer these?
Recent Topics