How to protect garden plants from frost?
Viewing 7 posts - 1 through 7 (of 7 total)
Author

Posts

Author

Posts
Viewing 7 posts - 1 through 7 (of 7 total)
Also related to this topic
For a sustainable garden
To transform your growing beds into spots of high ecological value, here are a few simple tips and solutions. Common sense applies and points the way to sustainable gardening. It's all about collecting rainwater, knowing your local plants and soil…
Protecting plants from freezing and from the cold
When the winter cold hits, plants enter a phase of dormancy. It is important to protect them from the cold and from freezing so that they may burst with life anew in spring! A few simple protective measures can be…
Winter, time to clean and organize your garden
Fall was particularly enjoyable, with maximum sun, mild temperatures and no strong winds: ideal to set the stage for our winter garden tasks. From November to March, a gardener can take a step back. From the warmth of our cozy…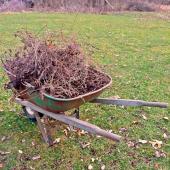 | | |
| --- | --- |
| | Log in or Join |
UserOnline
1 Reader online
Including
Can you answer these?